People love stories. So do I. That's why I make art. The ephemera I use: bits from vintage newspaper and old journals, papers from foreign country and currencies, I have rescued from antique shops, traveling friends and coin dealers. I also use found objects like jewelry parts, stones, watch and radio parts and bits that people would have otherwise thrown away, to embellish my pieces, which have one or more characters in them. Nothing is too small. Most things are recyclable.
My work is a small example of a greater truth: nothing is wasted in life. Not experiences. Not heartache. Not times of rest or inaction. And no person, no matter how small or seemingly insignificant, is, well, insignificant. Everyone has value and a purpose.
Many years ago (I won't tell you how many), my college roommate and I put our heads together after expressing a mutual interest in making art outside of our everyday careers. She was a graphic designer and I, still an illustrator, dreamed of painting on...
read more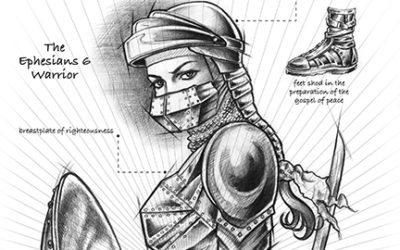 I drew this picture as an alternative to all of the male warriors I saw portraying this scripture. It's an image I identify with, and, it turns out, so do a lot of women. I meditated on each piece of armor as I considered how to place them and how they would...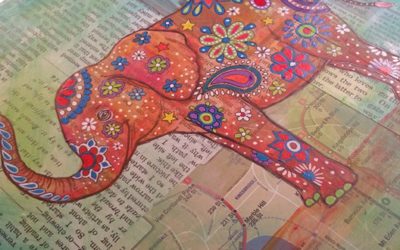 ('Mosaic Elephant 2', in process, by Christine Kerrick) The most fun an artist can have is when she — and by that I mean me – is inspired, happy and sitting down with a cup of coffee to put on canvas, paper, board, fabric (pick your place) that dream...
read more